Apricot Hill Raceway:
- - - - - - - - - - - - - - - - - - - - - - - - - - - - - - - - - - - - - - - - - - - - - - - -
Apricot Hill is a fairly simple course with only a few turns. There are two large perfect straights to take advantage of, so we found
it best to tune our car for speed in the straights while still keeping our car tight enough to handle the turns.
Track Stats:
Length - 2,402 Miles
Number of Turns - 13
Challenge - Moderate
Average Lap Time - 1:20.00
Good Lap Time - 1:15.00
Versus' Best - 1:01.96
Track Conditions - Day Dry and Reverse
Evaluation of the Turns: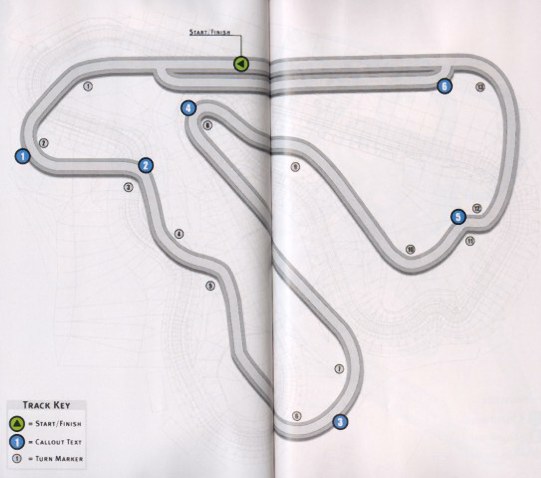 Turn 2: This rolling 75-degree turn is the easiest on the course, but still important because it set you up for the next series of S-curves ahead. Try to stay clear of traffic if possible.
Turns 3,4, and 5: This series of S-curves is barely even noticeable if in a properly tightened car. If your car is loose into turns, this part of the track will be more like a nightmare. Use it as a testing ground for your suspension.
Turns 6 & 7: This 180-degree turn is actually quite simple if you follow our racing line theories. Since it's spread out over so much track, you can almost use 75 percent throttle through the entire turn, and then 100 percent on your way out.
Turn 8: Unlike GT1 and GT2, if you get in the sand or dirt in GT3, your car not only loses control but also loses considerable speed. As such, we highly recommend staying out of the dirt or sand.
Turns 11 & 12: This kink is quite difficult if you try to slow down and stay on the pavement. If you power your way though the second corner of dirt, the speed loss is negligible and you racing line stays much cleaner.
Smack: The entrance to pit road on Apricot Hill is perhaps the most dangerous of all tracks in Gran Turismo 3. Make sure you stay to the right as you come off Turn 13, or you'll end up like car in this picture.
- - - - - - - - - - - - - - - - - - - - - - - - - - - - - - - - - - - - - - - - - - - - - - - -
Apricot Hill Raceway /
Complex String
/
Cote d'Azur
/
Deep Forest Raceway
/
Grand Valley Speedway
/ Laguna Seca Raceway / Mid-Field Raceway / Rome Circuit / Seattle Circuit / Smokey Mountain / Speciall Stage Route 11 / Special Stage Route 5 / Super Speedway / Swiss Alps / Tahiti Circuit / Tahiti Maze / Test Course / Tokyo R246 / Trial Mountain