Toyota:
- - - - - - - - - - - - - - - - - - - - - - - - - - - - - - - - - - - - - - - - - - - - - - - -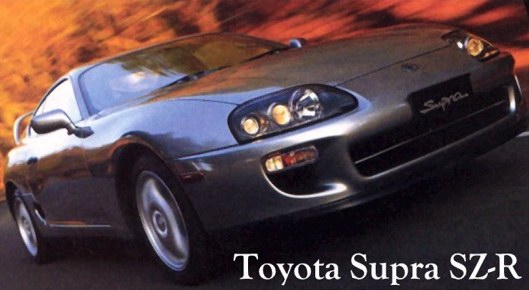 TOYOTA INTRODUCTION:
In the GT series, Toyota is often a treat to play for American gamers, as its lineup feature cars not available in the United States. In GT3, those models include the Altezza, the Vitz and the Supra.
TOYOTA CELICA SS-II:
When the Celica undergoes a full model change, what attracts attention is its novel body design.
The current seventh- generation Celica which appeared in September 1999 was designed at Catly, one of Toyota's overseas design center. Look closely at its distinctive front end and you will notice that it is not simply eccentric, but rather it achieves a form that anticipates automobile design in the near future. The Celica takes a leadership role in pulling along Toyota's automotive design.
The two available powerplants are the 1ZZ-GE which is a refined version of 1ZZ developed for the Vista, and the 2ZZ-GE. The cylinder head of the 2ZZ-G which is the high-performance type is equipped with a VVTL-I (continuously variable valve timing & lift mechanism) tuned by Yamaha. This is a high-performance engine that spits out specs of 190 ps/18.4 kg-m even being a naturally aspirated 1.8-liter.
Moreover, we cannot overlook the fact that the engine itself is roughly 30 kg lighter than the previous model. This contributes to its quick handling and the suppression of the nosedive phenomenon on braking. This car is not simply a specialty car but rather it also satisfies the needs of people who are in pursuit of a pure driving experience.
TOYOTA SUPRA SZ-R:
After a minor change in August 1997, Toyota's top-of-the-line sports car, the Supra, was further refined in many of its details. The most important of these is the BEAMS engine equipped with a variable valve timing system (VVT-i). The VVT-I system has been adopted in many recent Toyota cars, being a system that continuously varies the valve drive timing depending on the speed and acceleration for finer control over the engine.
The Supra can be driven quickly by not only experienced drivers but also general drivers without such a high level of driving skill. That broad appeal to drivers has been one of the charms of this continuously improving car line.
TOYOTA MR2 G-LIMITED:
The MR2 powerplant is an inline 4-cylinder 2-liter naturally aspirated engine. Being equipped with the variable valve timing system (VVTi), its maximum power reaches 200 hp. This power is slightly less than that of the GT-S, making it possible to improve chassis performance.
- - - - - - - - - - - - -
TOYOTA'S GT3 LINEUP:
With an astounding 22 models in their lineup, Toyota rings in with the largest number of cars in GT3. Everything from their classic `85 Sprinter Trueno to their wild and exotic `99 GT ONE Road Car, Toyota has you covered.
1 - '98 MR2 GT-S

Drivetrain - Mid-Engine-Rear Wheel Drive

Credits - 27,130

Power - 241 hp @ 6,000 rpm

Torque - 224 lb-ft @ 4,000 rpm

Weight - 1,270 kg

2 - '98 MR2 G-Limited

Drivetrain - Mid-Engine-Rear Wheel Drive

Credits - 23,750

Power - 197 hp @ 7,000 rpm

Torque - 151 lb-ft @ 6,000 rpm

Weight - 1,220 kg

3 - '99 Corolla Rally Car

Drivetrain - 4-Wheel Drive

Credits - 300,000

Power - 298 hp @ 5,700 rpm

Torque - 376 lb-ft @ 4,000 rpm

Weight - 1,230 kg

4 - '85 Sprinter Trueno GT-APEX

Drivetrain - Front Engine-Rear Wheel Drive

Credits - 13,550

Power - 128 hp @ 6,600 rpm

Torque - 109 lb-ft @ 5,200 rpm

Weight - 925 kg

5 - '99 MR-S S Edition

Drivetrain - Mid-Engine-Rear Wheel Drive

Credits - 19,800

Power - 138 hp @ 6,400 rpm

Torque - 125 lb-ft @ 4,800 rpm

Weight - 970 kg

6 - '00 Autobacs APEX MR-S GT / MR / Credits - Secret / Power - N/A / Torque - N/A / Weight - N/A

7 - '99 Celica SS-II / FF / Credits - 21,360 / Power - 187 hp @ 7,000 rpm / Torque - 133 lb-ft @ 4,800 rpm / Weight - 1,200 kg

8 - '97 Supra RZ / FR / Credits - 44,800 / Power - 276 hp @ 5,600 rpm / Torque - 332 lb-ft @ 3,600 rpm / Weight - 1,510 kg

9 - '97 Supra SZ-R / FR / Credits - 34,700 / Power - 221 hp @ 6,000 rpm / Torque - 209 lb-ft @ 4,800 rpm / Weight - 1,450 kg

10 - '00 Castrol Tom's Supra / FR / Credits - 1,250,000 / Power - 460 hp @ 6,000 rpm / Torque - 473 lb-ft @ 4,500 rpm / Weight - 1,100 kg

11 - '00 DENSO Sard Supra / FR / Credits - Secret / Power - 470 hp / Torque - 678 lb-ft / Weight - 1,100 kg

12 - '98 Altezza RS2000 / FR / Credits - 24,000 / Power - 207 hp @ 7,600 rpm / Torque - 159 lb-ft @ 6,400 rpm / Weight - 1,340 kg

13 - '98 Lexus IS / FR / Credits - 20,600 / Power - 157 hp @ 6,200 rpm / Torque - 147 lb-ft @ 4,400 rpm / Weight - 1,310 kg

14 - '99 GT-ONE Road Car / MR / Credits - Secret / Power - 638 hp / Torque - 495 lb-ft / Weight - 900 kg

15 - '99 GT-ONE Race Car / MR / Credits - Secret / Power - 591 hp / Torque - 479 lb-ft / Weight - 900 kg




16 - '00 Vitz Euro Edition / FF / Credits - 12,880 / Power - 86 hp @ 6,000 rpm / Torque - 90 lb-ft @ 4,400 rpm / Weight - 850 kg




17 - '00 Vitz RS 1.5 / FF / Credits - 14,530 / Power - 108 hp @ 6,000 rpm / Torque - 105 lb-ft @ 4,200 rpm / Weight - 940 kg

18 - '97 Celica SS-II ST202 / FF / Credits - 21,360 / Power - 197 hp @ 7,000 rpm / Torque - 151 lb-ft @ 4,800 rpm / Weight - 1,200 kg

19 - '97 Celica GT-FOUR / FF / Credits - 32,660 / Power - 251 hp @ 6,000 rpm / Torque - 224 lb-ft @ 4,000 rpm / Weight - 1,380 kg

20 - Sprinter Trueno GT APEX Shigeno Version / FR / Credits - Secret / Power - 207 hp @ 9,500 rpm / Torque - 171 lb-ft @ 7,500 rpm / Weight - 825 kg

21 - Altezza Limited Race Car / FR / Credits - Secret / Power - 597 hp @ 8,000 rpm / Torque - 617 lb-ft @ 4,000 rpm / Weight - 1,150 kg

22 - Celica Rally Car / 4WD / Credits - Secret / Power - 295 hp @ 5,700 rpm / Torque - 368 lb-ft @ 3,750 rpm / Weight - 1,200 kg
- - - - - - - - - - - - - - - - - - - - - - - - - - - - - - - - - - - - - - - - - - - - - - - -