Daihatsu:
- - - - - - - - - - - - - - - - - - - - - - - - - - - - - - - - - - - - - - - - - - - - - - - -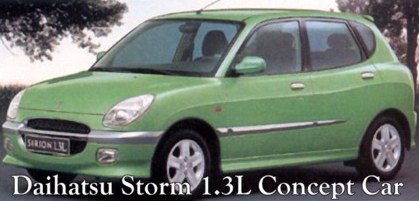 DAIHATSU INTRODUCTION:
Daihatsu slogan is "We make it compact," referring to the Japanese company's long-running tradition of making compact cars that have sold in millions in Asia. Daihatsu is rather unique in that it holds its compact cars to the same exacting standards as high-performance vehicles: Its cars are routinely test on high performance tracks. Daihatsu has stuck to and built upon that kind of car making philosophy for almost 100 year.
DAIHATSU MIRA TR-XX AVANZATO R:
With a full model change made in 1994, Daihatsu's flagship Mira model evolved to its fourth generation. Among the wealth of variations available, the TR-XX Avanzato Series is positioned as the sports type model.
This series comes in two versions, the Avanzato and Avanzato R, each of which is available in 2WD/4WD versions. The difference between the Avanzato and Avanzato R lies in its engine.
Although this car is categorized as a subcompact car, it actually gives performance that puts it well into the category of cars with displacement of a liter or more.
DAIHATSU STORIA X4:
In April 1998, two months after the debut of the Storia, the X4 model was released as a ready-to-modify base model intended for participation in motor sports.
Most notable about the X4 is the turbo mounted on its 713 cc engine. When cars are divided into classes for competition, turbo-equipped models are given a certain coefficient, so by making it 713 cc, it can participate in 1.0L class races. This straight-4 DOHC turbo generates a maximum power of 120 hp @ 7200 rpm and a maximum torque of 13.0 kg-m @ 4800 rpm, giving it extremely high dynamic performance.
Being the base model designed for motor sports, the car's weight is kept down to 1848 lb., attesting to its ability in competition. In fact, in the 2000 All Japan Rally Championship (4WD Class) the Storia X4 has won two consecutive victories since the start of the season, exhibiting overwhelming performance in various rally championships held in Japan.
- - - - - - - - - - - - -
DAIHATSU'S GT3 LINEUP: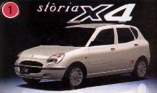 1 - '98 Storia X4 / 4WD / Credits - 13,900 / Power - 118 hp @ 7,200 rpm / Torque - 94 lb-ft @ 4,800 rpm / Weight - 840 kg
2 - '97 Mira TR-XX Avanzato R / FF / Credits - 11,140 / Power - 63 hp @ 7,500 rpm / Torque - 73 lb-ft @ 4,000 rpm /
Weight - 700 kg
- - - - - - - - - - - - - - - - - - - - - - - - - - - - - - - - - - - - - - - - - - - - - - - -