Fiat:
- - - - - - - - - - - - - - - - - - - - - - - - - - - - - - - - - - - - - - - - - - - - - - - -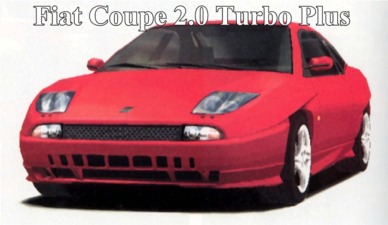 FIAT INTRODUCTION:
Founded in 1899, the Italian-based Fiat began developing race cars early on: For example, it designed a 290-hp car to beat the speed world record - back in 1911! Fiat also had a knack for innovation, being one of the first Italian carmakers to employ mass-production techniques and use aluminum cylinders in its engines. In the modern day, Fiat still sticks to its roots, developing sporty yet sleek models such as GT3's Coupe Turbo Plus.
FIAT COUPE TURBO PLUS:
This Coupe Fiat is the same Fiat 2+2 coupe that appeared in 1993. Its styling, absolutely unforgettable at a glance, is the work of Pininfarina. The lights that make it almost seem alive, the fender arch that looks as if carved with a knife, and the sharply cutoff tail area are attractive in every detail. The interior highlights body-colored panels that extend in front of your eyes to present a motif of the good old sports cars, giving a rich atmosphere filled with a sports mood. The powerplant is a straight-5 DOHC 20-valve with a displacement of 2.0L, which combined with a Garrett TB28 turbocharger, generates a maximum power of 220 hp and maximum torque of 31.0 kg-m. The transmission was originally a 5-speed manual, this was changed to a 6-speed manual in a minor change.
The combination of front-wheel drive and turbo is extremely stimulating, harking back to the "hot hatches" of the 80's. Stomp on the accelerator and the copious turbo power makes the front wheels claw at the road. Being front-heavy, she will tend to understeer but straightening up her posture is all a matter of skill. This aggressive character of hers should give you just the ride you expect from her looks.
- - - - - - - - - - - - -
FIAT'S GT3 LINEUP:
The Fiat Coupe is a hot little contender with a startling power to weight ratio when compared with other cars in its class.