Mercedes-Benz:
- - - - - - - - - - - - - - - - - - - - - - - - - - - - - - - - - - - - - - - - - - - - - - - -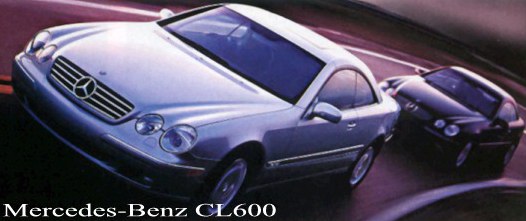 MERCEDES-BENZ INTRODUCTION:
Mercedes-Benz has built its reputation as a luxury status symbol, but there's no denying that its lineup would be equally suited to the racetracks on Gran Turismo 3. With its top-of-the-line performance cars easily churning out more than 350 hp, Mercedes-Benz's lineup packs the brawn under their hoods that belies their elegant exteriors.
MERCEDES-BENZ CL600:
This model is positioned as the coupe version of the company's flagship S Class. After the full model change of the S Class with which it shares a large share of its components, this model was also reborn as a new model.
The two powerplant options include one of a new generation of V8 engines with a displacement of 5.0-liter and a V12 engine with a displacement of 6.0-liter. The V12 of the CL600 generates 362 hp but it is equipped with cylinder shutoff mechanism that cuts the fuel supply to one bank of 6 cylinders among the 12 cylinders during idling or cruising or other times when not as much power is need.
The different models are given the names CL500/CL600 depending on the type of engine. Mated to the engine is a 5-speed automatic transmission with a "Tip Shift" mode that lets the driver shift the gears manually, like other cars in the Mercedes-Benz line.
Not only does it boast exquisite style suited to a coupe, its body has excellent aerodynamics that let it achieve a drag coefficient (Cd) of 0.28.
- - - - - - - - - - - - -
MERCEDES-BENZ'S GT3 LINEUP:
1 - '00 CLK 55
Drivetrain - Front Engine-Rear Wheel Drive
Credits - 93,110
Power - 347 hp @ 5,500 rpm
Torque - 376 lb-ft @ 4,200 rpm
Weight - 1,570 kg

2 - '00 CL 600
Drivetrain - Front Engine-Rear Wheel Drive
Credits - 133,950
Power - 361 hp @ 5,500 rpm
Torque - 391 lb-ft @ 4,000 rpm
Weight - 1,955 kg

3 - '99 SLK 230 Kompressor
Drivetrain - Front Engine-Rear Wheel Drive
Credits - 55,310
Power - 193 hp @ 5,300 rpm
Torque - 206 lb-ft @ 2,500 rpm
Weight - 1,325 kg

4 - '00 CLK Touring Car
Drivetrain - Front Engine-Rear Wheel Drive
Credits - Secret
Power - 443 hp @ 7,500 rpm
Torque - N/A
Weight - 1,000 kg

- - - - - - - - - - - - - - - - - - - - - - - - - - - - - - - - - - - - - - - - - - - - - - - -
Acura / Alfa Romeo / Aston Martin / Audi / BMW / Chevrolet / Chrysler / Citroen / Daihatsu / Dodge / Fiat / Ford / Gillet / Honda / Jaguar / Lancia / Lister / Lotus / Mazda / Mercedes-Benz / Mini / Mitsubishi / Nissan / Opel / Pagani / Panoz / Peugeot / Renault / RUF / Shelby American / Subaru / Suzuki / Tickford / Tommy Kaira / Toyota / TVR / Volkswagen

The Realm of GT3 / GT3 Car Lineup / GT3 Race Tracks / GT3 Arcade & Simulation Mode / GT3 Extra Info Center