Pagani:
- - - - - - - - - - - - - - - - - - - - - - - - - - - - - - - - - - - - - - - - - - - - - - - -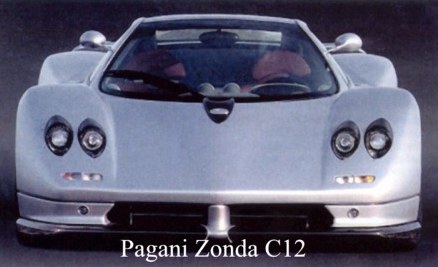 PAGANI INTRODUCTION:
Italy is well known for combining luxury design with stellar car performance, but perhaps the most exclusive of the bunch is Pagani. The company is a rare breed of carmaker that puts as much emphasis on a car's looks as its driving ability.
PAGANI C12:
A brand new supercar made its appearance at the 1999 Geneva Motor Show. This was the Pagani Zonda C12 model produced by Pagani Automobili of Modena, Italy. The Zonda C12, which was brought to see the light of day at the hand of Horacio Pagani, has a gorgeous profile suited to the title of supercar.
The mid-mounted powerplant is a Mercedes-Benz 6.0-liter V12 DOHC. Its spec sheet shows a maximum power of 394 hp @ 5,200 rpm and a maximum torque of 570 N-m @ 3,800 rpm. This awesome power is transmitted to the rear wheels through an AP twin-plate clutch and a ZF 5-speed manual transmission.
Its origins clearly lie in racing car techniques. A tubular space frame is covered with lightweight body panels. The suspension combined with this highly rigid chassis is a four-wheel double wishbone layout sporting Bilstein shock absorbers. The alloy wheels are OZ 18-inchers fitted with 255/40 size Michelin Pilots up front and 345/35's in back.
The performance is naturally incredible, doing 0-60 in 4.5 seconds, and the top speed is said to be in excess of 200 mph. In addition to the normal C12 model, the C12S model is also available with an AMG 7.0-liter powerplant, boosting the power by 100 hp over that of the normal model.
- - - - - - - - - - - - -
JAGUAR'S GT3 LINEUP:
1 - '00 Zonda C12
Drivetrain - Mid-Engine-Rear Wheel Drive
Credits - 275,010
Power - 388 hp @ 5,200 rpm
Torque - 420 lb-ft @ 3,800 rpm
Weight - 1,250 kg

2 - '00 Zonda C12S
Drivetrain - Mid-Engine-Rear Wheel Drive
Credits - 352,440
Power - 543 hp @ 5,500 rpm
Torque - 553 lb-ft @ 4,100 rpm
Weight - 1,250 kg

3 - Zonda Race Car
Drivetrain - Mid-Engine-Rear Wheel Drive
Credits - Secret
Power - 651 hp @ 6,600 rpm
Torque - 753 lb-ft @ 5,000 rpm
Weight - 1,150 kg

- - - - - - - - - - - - - - - - - - - - - - - - - - - - - - - - - - - - - - - - - - - - - - - -
Acura / Alfa Romeo / Aston Martin / Audi / BMW / Chevrolet / Chrysler / Citroen / Daihatsu / Dodge / Fiat / Ford / Gillet / Honda / Jaguar / Lancia / Lister / Lotus / Mazda / Mercedes-Benz / Mini / Mitsubishi / Nissan / Opel / Pagani / Panoz / Peugeot / Renault / RUF / Shelby American / Subaru / Suzuki / Tickford / Tommy Kaira / Toyota / TVR / Volkswagen

The Realm of GT3 / GT3 Car Lineup / GT3 Race Tracks / GT3 Arcade & Simulation Mode / GT3 Extra Info Center