Renault:
- - - - - - - - - - - - - - - - - - - - - - - - - - - - - - - - - - - - - - - - - - - - - - - -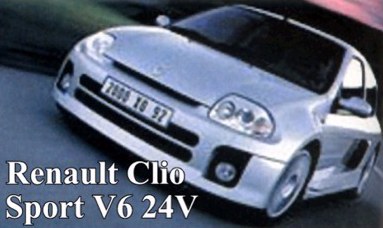 RENAULT INTRODUCTION:
Renault has a legacy more than 100 years old, and is regarded as France's top auto- maker. Today, Renault has a worldwide focus, having forged partnerships with companies such as Nissan and Volvo. Renault's founders were race drivers themselves, so its little surprise the Renault has pushed itself to the forefront in terms of racing technology: not only on the FI circuit, but with all its models - including the subcompact Clio Sport featured in GT3.
RENAULT CLIO SPORT V6 24V:
The Renault Clio Sport V6 Trophy, developed for a one-make race, was based on the practical front-wheel drive Renault Clio but underwent a major transformation into a mid-engine, rear-wheel drive configuration.
Its looks are charming but its power is formidable. The body shell, roof panel, aluminum hood and tailgate are borrowed from the normal Clio as is, but many modifications have been made to the front and rear bumpers and the body sides. The overall width was widened by 16 cm to accommodate 18-inch wheels.
The engine called the F7X is based on the unit used in the Renault Laguna and Espace models, but its maximum power was given a big boost from the 194 hp of the production car to 285 hp along with a flat torque curve. Mated to this engine is a SADEV sequential 6-speed non-synchro transmission, just like a modern racing car. A notable feature is the electronically controlled throttle, which eliminates the need to hit the clutch when upshifting or downshifting, and during downshifting it will even automatically perform blipping for you. The heel & toe routine is thankfully unnecessary so this system lets the driver concentrate on braking and steering.
With its mid-engine layout, the handling is pleasant with yaw being generated quickly upon entering a turn and not a hint of understeer on any corner. But because of the powerful assist of the power steering, the steering force itself is light with virtually no change in feedback with an increase or decrease in the steering angle. Or an increase or decrease in the ground contact load, so it is difficult to discern the grip limits through the steering wheel.
- - - - - - - - - - - - -
RENAULT'S GT3 LINEUP: