Honda:
- - - - - - - - - - - - - - - - - - - - - - - - - - - - - - - - - - - - - - - - - - - - - - - -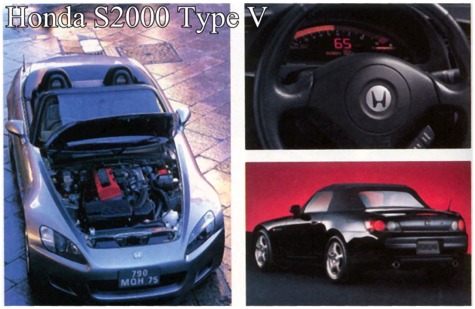 HONDA INTRODUCTION:
Honda has proven itself as of the most reliable carmakers in the world, with legions of loyal owners who will only buy this particular brand and nothing else. In the U.S., models such as the NSX are marketed under the upscale Acura brand. Honda's rich legacy in developing racing engines has no doubt helped the company create some of the most popular sports cars in the world.
HONDA S2000 TYPE V:
Honda's real open sports S2000, which appeared on April 15, 1999, was followed in July 2000 by a model called the Type V. The Type V is notable in that it is equipped with the world's first variable gear ratio system (VGS).
VGS is a system that varies the steering gear ratio depending on the vehicle's speed and the angle of the turn, thus improving the overall steering response at low and intermediate speeds, and also improving the response at large turning angles, thereby maintaining stability at high speeds. This means that it changes from the extremely quick setting of 1.4 turns lock-to-lock to normal 2.4 turns lock-to-lock (although this is still pretty quick), and back depending on the car's speed and the turning. Naturally, when the car's speed is low and the turning angle is large, the settings are made to be quick.
There are few obvious differences from the normal model in either the interior or exterior. On the exterior, the only change is the addition of the VGS badging. In the interior, only steering wheel is changed to a custom Type V model. The custom Type V steering wheel is painted silver top and bottom, giving it a sort or "cyber" feel, and its shape is a D-shape like that of a racing car.
The other mechanical aspects are identical to the normal S2000, and there are no changes to the engine specs. Only the vehicle weight was increased slightly. The quick steering feel gives you the feeling of a "new handling sports car" just as in the advertising copy. The development concept of "achieving high response and enjoyment with a Formula feeling" has been solidly achieved.
- - - - - - - - - - - - -
HONDA'S GT3 LINEUP:
From the timid but agile '93 Civic Sir-II to the wild and ferocious Castrol Mugen NSX, Honda has a competitive car for almost every category in the game. Their JGTC NSX's are by far some of the most enjoyable to drive in the game.
1 - '00 Accord Euro R
Drivetrain - Front Engine-Front Wheel Drive
Credits - 25,330
Power - 216 hp @ 7,200 rpm
Torque - 162 lb-ft @ 6,700 rpm
Weight - 1,330 kg

2 - '00 Raybrig NSX
Drivetrain - Mid-Engine-Rear Wheel Drive
Credits - Secret
Power - N/A
Torque - N/A
Weight - 1,150 kg

3 - '00 Castrol Mugen NSX
Drivetrain - Mid-Engine-Rear Wheel Drive
Credits - 1,250,000
Power - 473 hp
Torque - 289 lb-ft
Weight - 1,150 kg

4 - '00 Arta NSX
Drivetrain - Mid-Engine-Rear Wheel Drive
Credits - Secret
Power - 504 hp
Torque - 418 lb-ft
Weight - 1,150 kg

5 - '97 NSX Type Zero
Drivetrain - Mid-Engine-Rear Wheel Drive
Credits - 98,570
Power - 276 hp @ 7,300 rpm
Torque - 224 lb-ft @ 5,300 rpm
Weight - 1,270 kg

6 - '92 NSX Type R
Drivetrain - Mid-Engine-Rear Wheel Drive
Credits - 99,570
Power - 276 hp @ 7,300 rpm
Torque - 216 lb-ft @ 5,400 rpm
Weight - 1,230 kg

7 - '00 S2000 Type V
Drivetrain - Front Engine-Rear Wheel Drive
Credits - 35,600
Power - 246 hp @ 8,300 rpm
Torque - 160 lb-ft @ 7,500 rpm
Weight - 1,260 kg

8 - '99 S2000
Drivetrain - Front Engine-Rear Wheel Drive
Credits - 33,800
Power - 246 hp @ 8,300 rpm
Torque - 160 lb-ft @ 7,500 rpm
Weight - 1,240 kg

9 - '98 Integra Type R 98 Spec
Drivetrain - Front Engine-Front Wheel Drive
Credits - 25,160
Power - 197 hp @ 8,000 rpm
Torque - 137 lb-ft @ 6,200 rpm
Weight - 1,080 kg

10 - '98 Civic Type R
Drivetrain - Front Engine-Front Wheel Drive
Credits - 19,980
Power - 297 hp @ 6,000 rpm
Torque - 376 lb-ft @ 3,500 rpm
Weight - 1,230 kg

11 - '93 Civic 3-Door Si
Drivetrain - Front Engine-Front Wheel Drive
Credits - 18,890
Power - 167 hp @ 7,800 rpm
Torque - 115 lb-ft @ 7,300 rpm
Weight - 950 kg

12 - '95 CR-X Del-Sol SiR
Drivetrain - Front Engine-Front Wheel Drive
Credits - 18,730
Power - 167 hp @ 7,800 rpm
Torque - 115 lb-ft @ 7,300 rpm
Weight - 1,100 kg

13 - S2000 LM Race Car
Drivetrain - Front Engine-Rear Wheel Drive
Credits - Secret
Power - 586 hp @ 9,500 rpm
Torque - 462 lb-ft @ 8,500 rpm
Weight - 1,050 kg

- - - - - - - - - - - - - - - - - - - - - - - - - - - - - - - - - - - - - - - - - - - - - - - -
Acura / Alfa Romeo / Aston Martin / Audi / BMW / Chevrolet / Chrysler / Citroen / Daihatsu / Dodge / Fiat / Ford / Gillet / Honda / Jaguar / Lancia / Lister / Lotus / Mazda / Mercedes-Benz / Mini / Mitsubishi / Nissan / Opel / Pagani / Panoz / Peugeot / Renault / RUF / Shelby American / Subaru / Suzuki / Tickford / Tommy Kaira / Toyota / TVR / Volkswagen

The Realm of GT3 / GT3 Car Lineup / GT3 Race Tracks / GT3 Arcade & Simulation Mode / GT3 Extra Info Center