Mitsubishi:
- - - - - - - - - - - - - - - - - - - - - - - - - - - - - - - - - - - - - - - - - - - - - - - -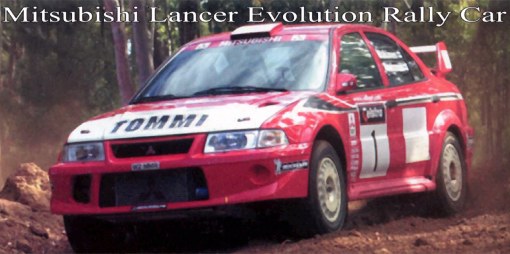 MITSUBISHI INTRODUCTION:
In 1970, the Motor Vehicle Division of Mitsubishi Heavy Industries Ltd. became independent under the new name Mitsubishi Motors Corporation (MMC). Soon after, Japanese automobile technology was becoming respected worldwide, and Mitsubishi was once again at the forefront of innovation.
Today, Mitsubishi has gone on record to say that they are "...undergoing a substantial transformation as the company moves decisively away from a traditional Japan-centric to more a global-oriented management model." In layman's terms, they've merged with other corporations, in hopes of getting in better touch with many of the new and evolving global markets. But the real question still looms: when will see the Lance Evolution VII on American shores? Is there a chance? With the Subaru Impreza WR-X showing up for 2001 we think there just might be.
MITSUBISHI LANCER EVOLUTION VI GSR:
In January 1999, the Lancer Evolution Series finally evolved into its sixth generation. As you can see from its domination of WRC in 1998, the previous-generation Evolution V achieved a high degree of machine perfection. But the Evolution was refined even further to achieve higher performance.
One notable feature is the change to an exterior that meets WRC regulations. While conforming to the two rules that the front air dam must not extend past the bumper silhouette in top view and the size limits on the rear spoiler, they have also included many elements to boost performance. In particular, the bumpers were given an enlarged effective cooling hole surface area along with various other methods of increasing the cooling efficiency while still reducing aerodynamic drag. The rear spoiler was reduced in size but changed to a double wing configuration, thus compensating for the reduced downforce. On the other hand, the interior has new seat fabric along with a blue instrument panel and the stitching on the steering wheel/shifter/boot is kept to a uniform blue. This color coordination is central to the color of the image of the Evolution. The transverse-mounted 4G63-inline 4-cylinder DOHC turbo up front is unchanged in specifications at a maximum power of 280 ps/ and torque of 38.0 kg-m.
By continuing to adopt the AYC from the previous generation, this GSR achieves good cornering performance. In comparison to the RS, its weight is heavier so it has lost a certain amount of its nimbleness, but the good cornering performance and ease of posture control makes it a model whose "speed" can be controlled by anyone. With its extensive equipment, the GSR has the advantage from the standpoint of everyday use.
TUNING THE LANCER EVOLUTION VII:
Tuning Mitsubishi's newest Lancer is almost easier than it should be. The car starts with a very healthy performance stat sheet, and after a few upgrades, it really shines as one of the better cars in the game.
Here's a few tips when trying to tune for maximum performance with your Evolution VII (for rally racing):
For most of the rally tracks, we found the Stage 3 Turbo Kit to be more than sufficient to get this car up to speed. The Stage 4 Turbo Kit is pure overkill at low RPM, and it becomes difficult to tune your suspension at those high power levels.

To tighten up the relatively "loose" stock Evolution VII you'll need to do some serious suspension setup. With your shocks, try using a high front rebound value, and a low rear rebound value. Also bring your front and rear stabilizer settings down quite low, and make sure to keep them within two clicks of one another.

Make sure you hit that thing called the "accelerator."
RACING PROFILE:
Tommi Makinen was born on June 26, 1964 in Finland. He belongs to Mitsubishi RalliArt racing team.
Believe it or not, Tommi Makinen started out his racing career competing on farm tractors, winning the Finnish national plowing title in both 1982 and 1985. Not exactly what one might consider a solid racing foundation, but it was racing nonetheless.
His very first rally was in 1985, and he tackled his first World Championship event only two years later, when he raced the 1000 Lakes Rally. His career was transformed in 1990, when he teamed up with a vastly experienced co-driver Seppo Harjanne, seasoned veteran and winner of the 1985 World Championship with Timo Salonen - to drive a Mitsubishi Galant VR-4 in five World Championship rallies. They finished twice in the top ten overall and won Group N three times. In 1994, he joined the Ford team for two events - the Mantta Rally and the 1000 Lakes Rally - and won them both. That very next year, Tommi made his debut for Team Mitsubishi RalliArt, moving on to win World Championships in 1996, 1997, 1998, and 1999. Tommi's truly the Michael Jordan of Rally racing.
WORLD RALLY DOMINANCE:
At the most recent World Rally Championship event held in Catalunya-Costa Brava (March 25th, 2001), the number of Mitsubishi Lancers/Carismas on the field outnumbered the nearest competitor by more than two to one. And Catalunya-Costa Brava is no fluke! In fact, it's quite rare if another car manufacturer should even come close to matching (let alone surpassing) the number of points scoring Mitsubishis on the field at any rally event.
- - - - - - - - - - - - -
MITSUBISHI'S GT3 LINEUP:
Mitsubishi makes quite a presence in GT3, accounting for 14 of the game's 180+ automobiles, coming in third place only behind Toyota and Nissan with a sheer number of playable cars. Primarily comprised of several variations of their esteemed Lancer, Mitsubishi continues to uphold its reputation as one of the top performing car manufacturers from Japan.
1 - '97 FTO GP Version R
Drivetrain - Front Engine-Front Wheel Drive
Credits - 21,600
Power - 197 hp @ 7,000 rpm
Torque - 147 lb-ft @ 6,000 rpm
Weight - 1,150 kg

2 - '95 3000GT VR-4
Drivetrain - 4-Wheel Drive
Credits - 43,230
Power - 276 hp @ 6,000 rpm
Torque - 314 lb-ft @ 2,500 rpm
Weight - 1,710 kg

3 - '99 3000GT VR-4 Turbo
Drivetrain - 4-Wheel Drive
Credits - 43,230
Power - 276 hp @ 6,000 rpm
Torque - 314 lb-ft @ 2,500 rpm
Weight - 1,680 kg

4 - '96 Lancer Evolution IV GSR
Drivetrain - 4-Wheel Drive
Credits - 29,980
Power - 276 hp @ 6,500 rpm
Torque - 260 lb-ft @ 3,000 rpm
Weight - 1,350 kg

5 - '98 Lancer Evolution V GSR
Drivetrain - 4-Wheel Drive
Credits - 32,480
Power - 276 hp @ 6,500 rpm
Torque - 274 lb-ft @ 3,000 rpm
Weight - 1,360 kg

6 - '99 Lancer Evolution VI RS
Drivetrain - 4-Wheel Drive
Credits - 25,980
Power - 276 hp @ 6,500 rpm
Torque - 274 lb-ft @ 2,750 rpm
Weight - 1,260 kg

7 - '99 Lancer Evolution VI GSR
Drivetrain - 4-Wheel Drive
Credits - 32,480
Power - 276 hp @ 6,500 rpm
Torque - 274 lb-ft @ 3,000 rpm
Weight - 1,360 kg

8 - '00 Lancer Evolution VI GSR (Tommi Makinen)
Drivetrain - 4-Wheel Drive
Credits - 32,780
Power - 276 hp @ 6,500 rpm
Torque - 274 lb-ft @ 2,750 rpm
Weight - 1,360 kg

9 - '00 Lancer Evolution VI GSR (T. Makinen Stripe)
Drivetrain - 4-Wheel Drive
Credits - 32,780
Power - 276 hp @ 6,500 rpm
Torque - 274 lb-ft @ 2,750 rpm
Weight - 1,360 kg

10 - '99 Lancer Evolution VI Rally Car
Drivetrain - 4-Wheel Drive
Credits - Secret
Power - 297 hp @ 6,000 rpm
Torque - 376 lb-ft @ 3,500 rpm
Weight - 1,230 kg

11 - '01 Lancer Evolution VII RS
Drivetrain - 4-Wheel Drive
Credits - 25,180
Power - 276 hp @ 6,500 rpm
Torque - 282 lb-ft @ 2,650 rpm
Weight - 1,320 kg

12 - '01 Lancer Evolution VII GSR
Drivetrain - 4-Wheel Drive
Credits - 29,980
Power - 276 hp @ 6,500 rpm
Torque - 282 lb-ft @ 2,750 rpm
Weight - 1,400 kg

13 - '01 Lancer Evolution VII Rally Car Prototype
Drivetrain - 4-Wheel Drive
Credits - Secret
Power - N/A
Torque - N/A
Weight - 1,230 kg

14 - FTO LM Race Car
Drivetrain - Front Engine-Front Wheel Drive
Credits - Secret
Power - 567 hp @ 8,500 rpm
Torque - 490 lb-ft @ 6,000 rpm
Weight - 980 kg

- - - - - - - - - - - - - - - - - - - - - - - - - - - - - - - - - - - - - - - - - - - - - - - -
Acura / Alfa Romeo / Aston Martin / Audi / BMW / Chevrolet / Chrysler / Citroen / Daihatsu / Dodge / Fiat / Ford / Gillet / Honda / Jaguar / Lancia / Lister / Lotus / Mazda / Mercedes-Benz / Mini / Mitsubishi / Nissan / Opel / Pagani / Panoz / Peugeot / Renault / RUF / Shelby American / Subaru / Suzuki / Tickford / Tommy Kaira / Toyota / TVR / Volkswagen

The Realm of GT3 / GT3 Car Lineup / GT3 Race Tracks / GT3 Arcade & Simulation Mode / GT3 Extra Info Center