Lancia:
- - - - - - - - - - - - - - - - - - - - - - - - - - - - - - - - - - - - - - - - - - - - - - - -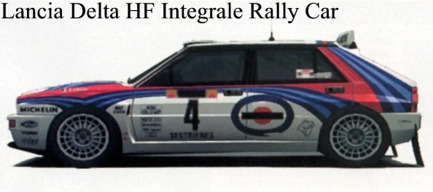 LANCIA INTRODUCTION:
This Italian carmaker began in the early 1900's, pioneering such innovations as independent front suspension and a load-bearing body. Lancia was also responsible for building Italy's image as a stylish car-making country in the 1940's. Ironically, company founder Vincenzo Lancia stopped racing his own vehicles in order to focus all his energy into his budding company. Eventually, however, Lancia couldn't resist the lure of rally car.
LANCIA HF INTEGRALE:
The Lancia Delta first hit the scene in 1979 and aimed to become the main compact car line for the company. Its release proved a resounding success, winning "Car of the Year" honors from a panel of journalists from around the world.
Fast-forward to 1983, when the Delta HF turbo version first appeared. That version of the car had a 1.6-liter engine that could deliver 130 hp. Three years later, the Delta series got a makeover - and the HF version introduced three key features; fuel injection, the option for four-wheel drive and a 2.0-liter turbocharged engine capable of 165 hp.
Not surprisingly, the Delta HF was well suited to rally car racing, and in 1987 Lancia jumped right into the World Rally Championship and won both the manufacturer's title and the top three spots in the drivers' championship standing - an impressive feat. A good chunk of those titles were won with the car model featured in GT3.
Although Lancia phased out the Delta series 1994, it still enjoys a loyal fan base - no doubt in part due to the excellent engineering that went into the car.
- - - - - - - - - - - - -
LANCIA'S GT3 LINEUP: