ShelbyAmerican:
- - - - - - - - - - - - - - - - - - - - - - - - - - - - - - - - - - - - - - - - - - - - - - - -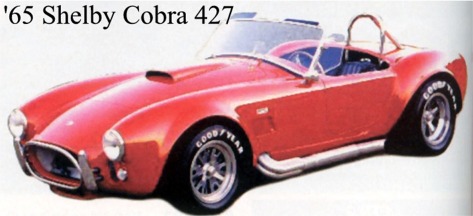 SHELBY AMERICAN INTRODUCTION:
THE 2001 SHELBY CSX 4000:
Today's version of the legendary Shelby Cobra is the CSX4000 Series 427S/C Cobra from Shelby American. And for all practical purposes, it's everything their original 1965 model was, and more. From the world's first computer designed chassis and four wheel coil-over independent suspension to the heart stopping power of the big block Ford V8 breathing through those vicious looking side pipes - these Cobras are 100 percent Shelby. Some minor improvements to the car itself include a stronger steel frame and better alloys used in the components, plus better cooling designed to make these cars safer and more drivable without losing any of their original character.
CARROLL SHELBY TIMELINE:
January 11, 1923 - Carroll Hall Shelby is born to Warren Hall Shelby, and Eloise Lawrence Shelby.
May 1952 - Carroll drives in his first road race behind the wheel of an MG-TC, taking first place in competition with other MG's. The same day, against stiffer competition from Jaguar XK 120's, he wins again.
1956 & 1957 - Sports Illustrated names Carroll Shelby sports car driver of the years, two years in a row.
June 1959 - Carroll Shelby and Ray Salvadori co-drive an Aston Martin DBR1/300 and win the 24 Hours of Le Mans, the biggest race in Europe.
December 1960 - Shelby competes in his last race, the Third Annual Los Angeles Times-Mirror Grand Prix for sports cars, driving a Type 61 Birdcage Maserati, and finishes fifth. Overall, he wins the USAC driving Championship for 1960
March 1962 - Shelby-American begins operations at a shop on Princeton Drive in Venice, California. He hires Ray Geddes, a Ford finance business school graduate who comes abroad at Shelby-American to coordinate the program with Ford.
April 1962 - CSX 2000, the first Cobra, is painted a pearlescent yellow by Dean Jefferies and shipped to the New York Auto Show where it appears in the Ford display. Dealers begin ordering and with deposits in the bank, Shelby American formally commits to building its new Cobra.
June 1964 - Shelby-American wins the biggest race of all in Europe, the 24 Hours of the Le Mans. The Cobra is fourth overall and first in GT, defeating the Ferrari.
September 1964 - The first `65 Shelby Mustang GT 350 race and street cars are built.
January 1965 - The 427 Cobra, featuring a tube frame, aluminum body, coil spring chassis, is unveiled at press introduction at Riverside International Raceway. Shelby-American begins its move to Los Angeles International Airport facility. Ford turns its GT-40 project over to Shelby-American.
May 1965 - Carroll Shelby and Shelby American win the 1965 FIA Manufacturers Championship for Grand Touring Cars driving the Shelby Cobra Daytona Coupe. This is the first ever World Manufacturers Championship won by an American.
November 1966 - The first of the `67 Shelby GT350's and GT500's are delivered to dealers nationwide.
September 1969 - The Shelby Mustang project is ended as sales dramatically. The leftover '69 models are updated to '70 specifications and productiion ends.
December 1969 - Shelby Automotive Racing Company closes.
February 1970 - Ford ends its long-term racing agreements with Carroll Shelby.
November 1989 - Shelby begins his 427 Cobra S/C project, continuing production of "leftover" S/C models from 1966.
October 1992 - Carroll Shelby is elected to the Automotive Hall of Fame in ceremonies at the Westin Hotel in Detroit, Michigan.
- - - - - - - - - - - - -
SHELBY AMERICAN'S GT3 LINEUP: